The Pearl River Delta in South China is a place where China's developed manufacturing industries gather, and Dongguan is a well-known manufacturing center with global influence.
At the 2020 China (Dongguan) machine tool exhibition held in Houjie, Dongguan, Yelu's CNC equipment has accumulated a lot of experience, which has brought visitors a different experience. It really shows visitors that technology has changed their lives, and equipment modernization has led the progress of manufacturing industry!
Yelu CNC equipment returns to the exhibition again
Don't you pay attention to us?
I'll let you know as soon as I go out again next time!
The following is an introduction to the exhibition site
At the exhibition site, the equipment displayed by Yelu CNC attracted the attention of a large number of visitors. Many interested visitors came to the booth one after another to learn the details of the equipment, and the crowd gathered in front of the booth.
Can I find you in this busy crowd?
In this machine tool exhibition, the booth of Yelu CNC equipment is very popular. Not only the visitors showed the machine tool equipment designed by Seiko craftsmen, but also many consulting purchasers had technical exchanges with us. The staff of Yelu equipment introduced the design details and advanced production technology of the product in detail, and the equipment was appreciated by many parties!
We are well aware of the impact of the epidemic this year
The living environment of all walks of life is not satisfactory
But good products are still good
Yelu CNC equipment the most solid foundation!
With advanced technology and excellent product quality, in this machine tool exhibition, Yelu CNC equipment and a number of purchasers contributed to a number of orders. More and more people recognize Yelu CNC equipment, and more and more customers trust and choose Yelu CNC equipment.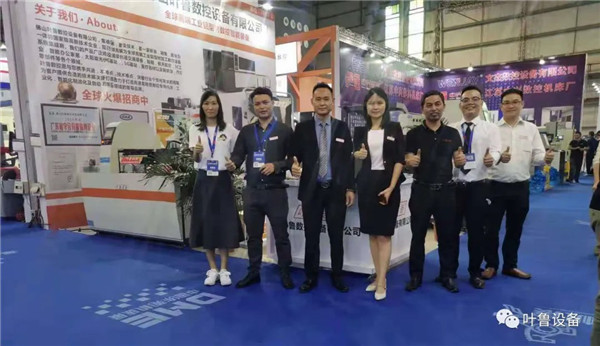 In the future development road, Yelu CNC equipment will live up to expectations, continue to adhere to technology first, quality-oriented, production of advanced, high-quality CNC equipment, so that the trust and choice of our customers get the best feedback!